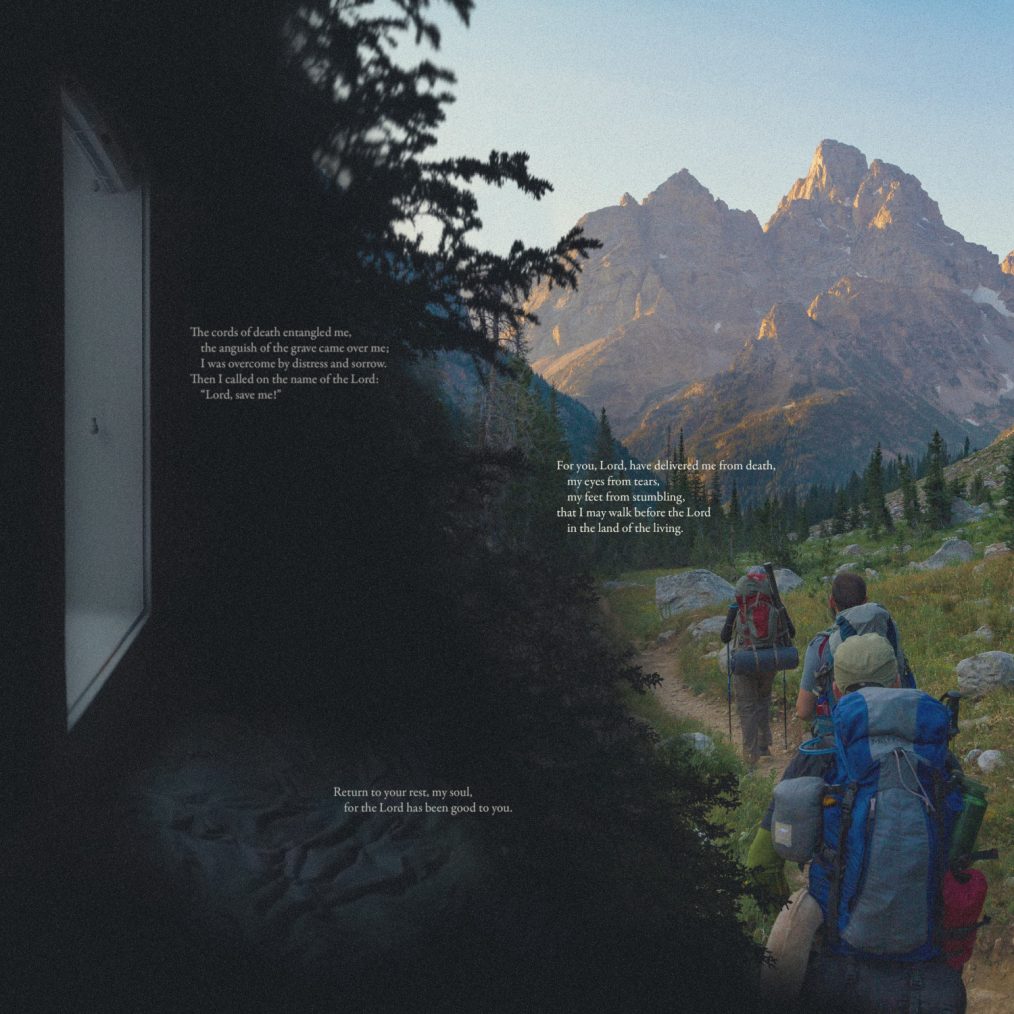 Psalm 116—Artwork
Learn more about Christ in the Psalms weekly artwork and see previous pieces here.
Person: Steve Vanderheide
Hey there, I'm Steve. I'm a video producer, and an amateur photographer.
Piece: Photography
This piece came out of Project 101010—a art intensive I really enjoyed being a part of through Park Church—where we went through Psalms 110-119. When Psalm 116 came along, I was struck by the line in Verses three and four:
"The cords of death entangled me, the anguish of the grave came over me;I was overcome by distress and sorrow.Then I called on the name of the Lord: "Lord, save me!" (NIV)
When I read that, I pictured waking up in the middle of the night, lacking sleep, and being overcome by the thought of death. This is something I have been wrestling with for a few years now. What does life look like after death? What does it mean to be with God? Unfortunately, over these years, often the concept of death has filled me with fear and anxiety rather than looking forward expectantly to being with Jesus. Losing a longtime friend in 2019 has only made these question bubble up more often.
The window on the left is my bedroom window, filled with the pale light of a morning far too early to be awake in. The graininess and darkness is both what I see literally, as well as what it feels like—difficult to focus on anything in particular, and a heaviness on my heart. Verse 7 is a reminder to me:
"Return to your rest, my soul,for the Lord has been good to you." (NIV)
God has been so good to me. He provides over and over and over again, and in abundance. He is close when I need him. He gives my soul rest. This verse tells me that even in death, he will provide for me. He will not abandon me. If he can give my soul rest, he can give my mind and body rest. Verse 8 and 9 are something to look forward to:
"For you, Lord, have delivered me from death, my eyes from tears, my feet from stumbling,that I may walk before the Lord in the land of the living." (NIV)
Again, he will provide, even in death. He will deliver me from it. But not just that, he will keep my eyes from tears, my feet from stumbling, and allow me the delight of walking before the Lord in the land of the living. The Psalmist may have intended it for the here and now, but I also see this as what is to come. I paired this with a photo from a backpacking trip to the Grand Tetons with 3 close friends. It helps me out to picture what truly being in the presence of the Lord will be like by picturing what being with good friends on a journey is like. There is no loneliness. There is anticipation, purpose, a path, a goal, laughter, and adventure.
This Psalm helps to pull me out of the darkness, transitions me through a lost forest of thought, and into the land of the living.
I started out by photographing my room in the evening just after the sun set, so that there was enough light coming through the window to actually mimic pale light coming through in early morning. I merged this with my photo from the 2018 Grand Teton trip in Photoshop, and then used various layers of trees, filled with black, to mask the transition between the two photos. I then added grain and the verses on top. I intentionally tried to make the verses more blurry and translucent on the left, becoming more crisp as it moves to the right.

The biggest challenge of this was that the original piece was created in a super-wide aspect ratio (see above!), with lots and lots of stark blackness in the middle. The square version for this artwork series has been modified to fit your television.