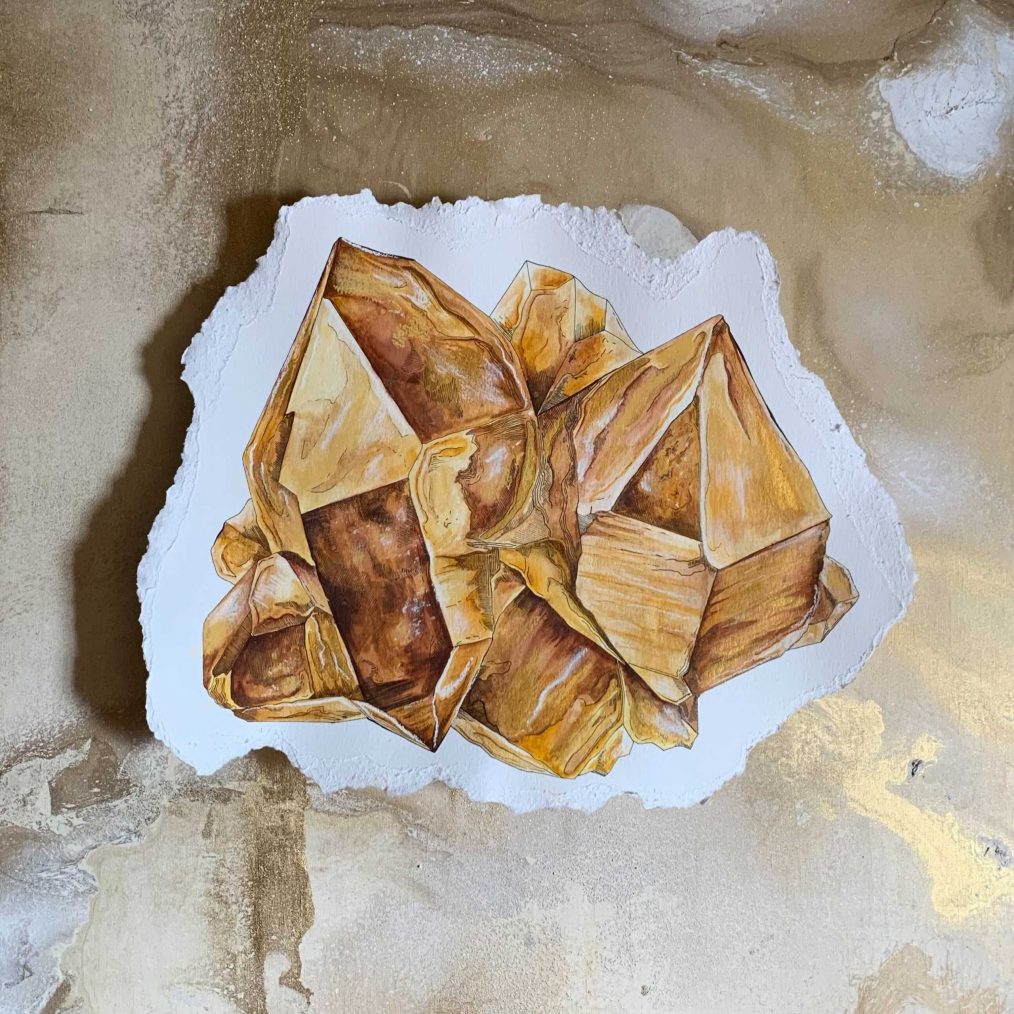 Psalm 115—Artwork
Learn more about Christ in the Psalms weekly artwork and see previous pieces here.
Person: Beth Dreyer
I am Beth Dreyer, a Chicago-raised transplant living in Denver for almost eight years. I graduated with a B.F.A. in Studio Art with an art education endorsement and have been teaching elementary art in the public school system for 10 years. I am a wife to Adam and a mom to two—Ramona and Nolan. As an art teacher, I am constantly experimenting with different art mediums and techniques which, especially during the pandemic, have helped me see the beauty and mystery in the world around me.
Piece: Mixed Media
While reading Psalm 115, I felt two distinctive things: the conviction of idolatry and its contrast with the sovereignty, steadfastness, and trustworthiness of the Lord. As someone who often struggles with shame, verses 4–8 stood out to me first, addressing the idols we often build.
Through idols built by our own hands, we try to make our own way separate from God, thinking we know ourselves better than He knows us. I do this all the time. This idolatry is symbolized by the gold rock/gemstone raised from the panel, representing our attempt to build and construct our own lives separate from Him. But, by the grace of God, HE is steadfast and faithful and is the true God. The whimsical gold and white background represents the Lord's sovereignty and faithfulness. His refinement, like actual gold, is at work in us. Even though we make our own idols and try to separate ourselves from Him, He clings to His people and frees us to rest in Him and trust in Him alone. Like verses 9–11 tell us, God is the one true God, our help and our shield. My prayer is that this rests on our hearts and transforms us.
This piece is a mixed media artwork: ink, watercolor, pastel, and spray paint. I have worked a lot with ink, watercolor, and pastel, but this was my first time working with spray paint. For the gemstone, I purposefully wanted to use mediums I could use to add more detail with—like the ink and watercolor and pastel. I wanted those mediums to represent the intense efforts we often go to to build the idols to which we desperately cling. However, for the background panel, the representation of the sovereignty of God, I wanted to use a material more mysterious—free flowing—but with the same color palette. I created the background using a technique called hydro dipping: spraying spray paint on top of water and dipping your surface in to create layers. This technique reminded me of the whimsical beauty of God and the everflowing trust in Him by His people.