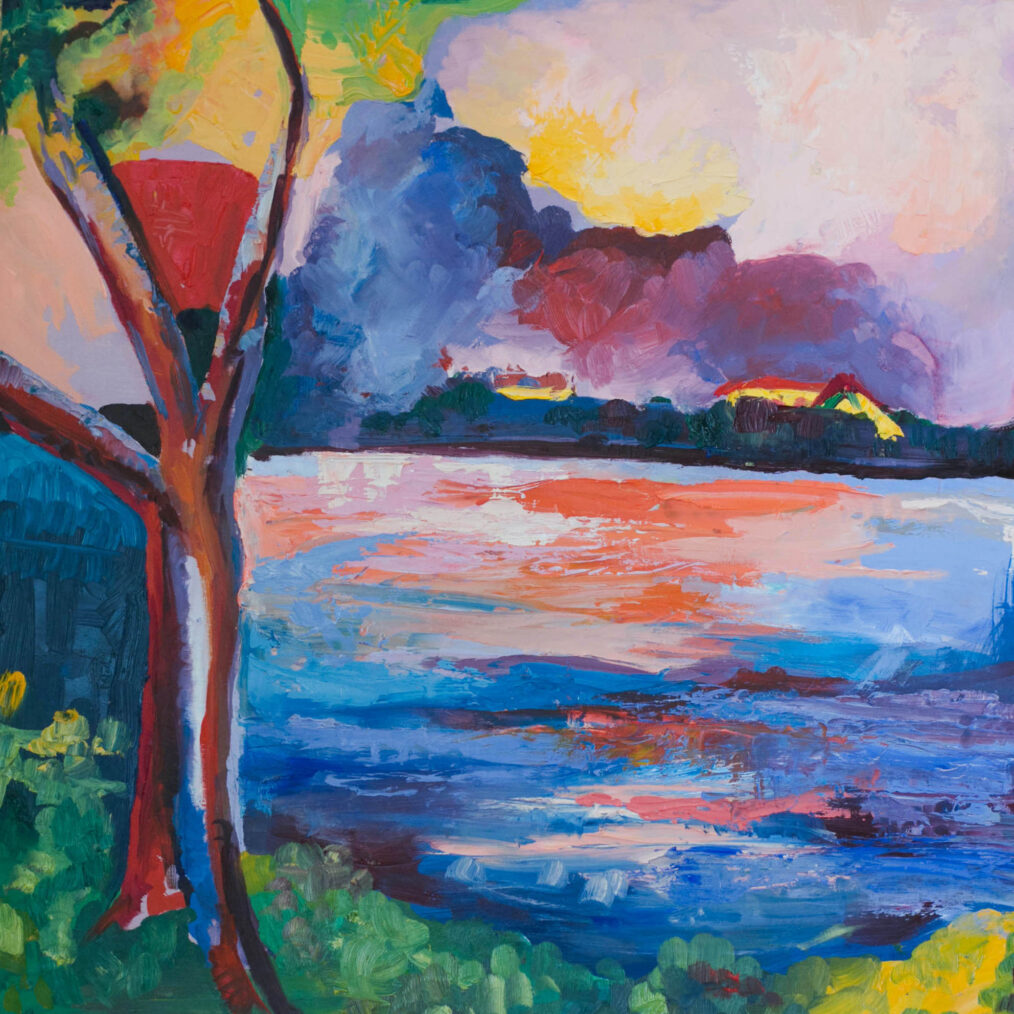 Psalm 108—Artwork
Learn more about Christ in the Psalms weekly artwork and see previous pieces here.
Person: Kari Langford
Kari, originally from Houston, is currently pursuing her BFA at the University of Denver. Growing up in a small waterfront town, she has always connected to God through the ocean. Nature is an important means to relate to God and the people around her. She has recently been exploring color, light, and form in her paintings, as well as performance and ceramic work.
Piece: Oil Painting
The last couple of months have been hard. They are unprecedented and difficult times that have caused an aching and longing in my soul for God to restore. All the day long, I cry out for the Lord to redeem this land, to wipe away the tears.
In the midst of this season, I have been home in Texas; I have once again returned to the water and greenery of a Texas landscape. So many times, I have woken up in the morning to look out the window and see warm, beautiful hues of greens and yellows. This time has forced me to slow down and look around—as if the Lord was calling me to "Awake!"
While I have been spending time in Psalm 108, I have been reminded of the Lord's goodness. Great is the Lord, and greatly to be praised.
My heart is steadfast, O God!
I will sing and make melody with all my being!
Awake, O harp and lyre!
I will awake the dawn!
I will give thanks to You, O Lord, among the peoples;
I will sing praises to You among the nations.
For Your steadfast love is great above the heavens;
Your faithfulness reaches to the clouds.
(Psalm 108:1–4)
I was struck by this image of worshiping with all of my being, with awaking the dawn with praise. In response to this, I woke up at 5am, went to the neighborhood dock, and greeted the dawn with praise for our holy God. The clouds and the sun and the water and the trees, all point us to the Creator. They show us glimpses of His steadfast love—of His faithfulness—that reaches beyond the things we can see.
My prayer is that in the midst of sorrow, we can rejoice in who God is, and that one may look upon this burst of color and light and be moved to praise our incomprehensible God.