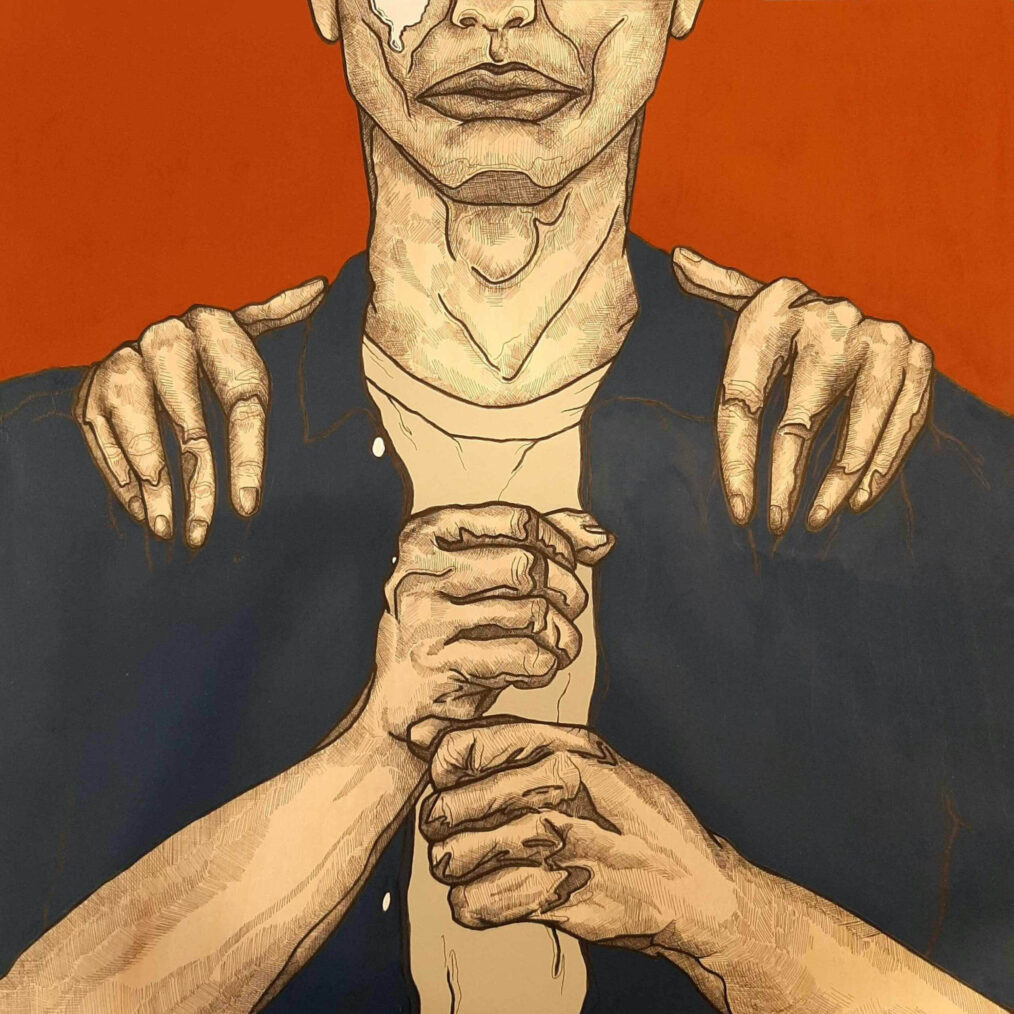 Psalm 103—Artwork
Learn more about Christ in the Psalms weekly artwork and see previous pieces here.
Person: Beth Dreyer
I am a Chicago-raised transplant that has been living in Denver for seven years. I graduated from Creighton University in Omaha, Nebraska with a B.F.A. in Studio Art and have been teaching elementary art in the public school system for nine years. I have been married to my husband, Adam Dreyer, for 6 years, and am a mom of a busy (almost) three-year old, Ramona, and a 4-month old, Nolan. I am a lover of the outdoors and feel most myself when I meet with God in the midst of His beautiful creation (with the people I love most, of course!).
Piece: Acrylic & Ink
In Psalm 103, David praises God specifically for His goodness and faithfulness in response to creation. Throughout the psalm, many characteristics and actions of God stick out—"forgives," "heals," "redeems," "satisfies," "justice," "merciful," "slow to anger," and "compassion." God is worthy of all praise! Our God loves us tangibly and fully. We can rest in Him, knowing that in love, He forgives sin and heals us from sin's devastating effects on our lives (v.3), brings good out of evil (v.4-5), and ultimately will bring justice as He fights for us (v.6-7). In verse 13, God is referenced as a father, "As a father shows compassion to his children, so the Lord shows compassion to those who fear Him." To me, the image of God as "Father"' is one of the most beautiful. As someone who did not have the best relationship with their earthly father, Psalm 103 is a reminder that our Father in Heaven knows us to our core (v.13-14) and that He wants us to know Him deeply in return.
This painting first focuses on the brokenness of the world—the reality of man's sinful desire to grasp and hold onto the things we think are important. These things are but dust and hold no weight in the Kingdom of Heaven (v.15-16). The hands on the shoulders are a symbol of the Lord's compassion toward us as our Father and the gentle discipline for His children when we sin and attempt to find satisfaction in things of this world. As believers, we can instead rest in our covenant relationship with the Lord through the work of Jesus. Praise God for knowing us! Praise God for not dealing with us according to our sins (v.10)! Praise God for His benefits! Praise God for forgiveness, restoration, and peace!