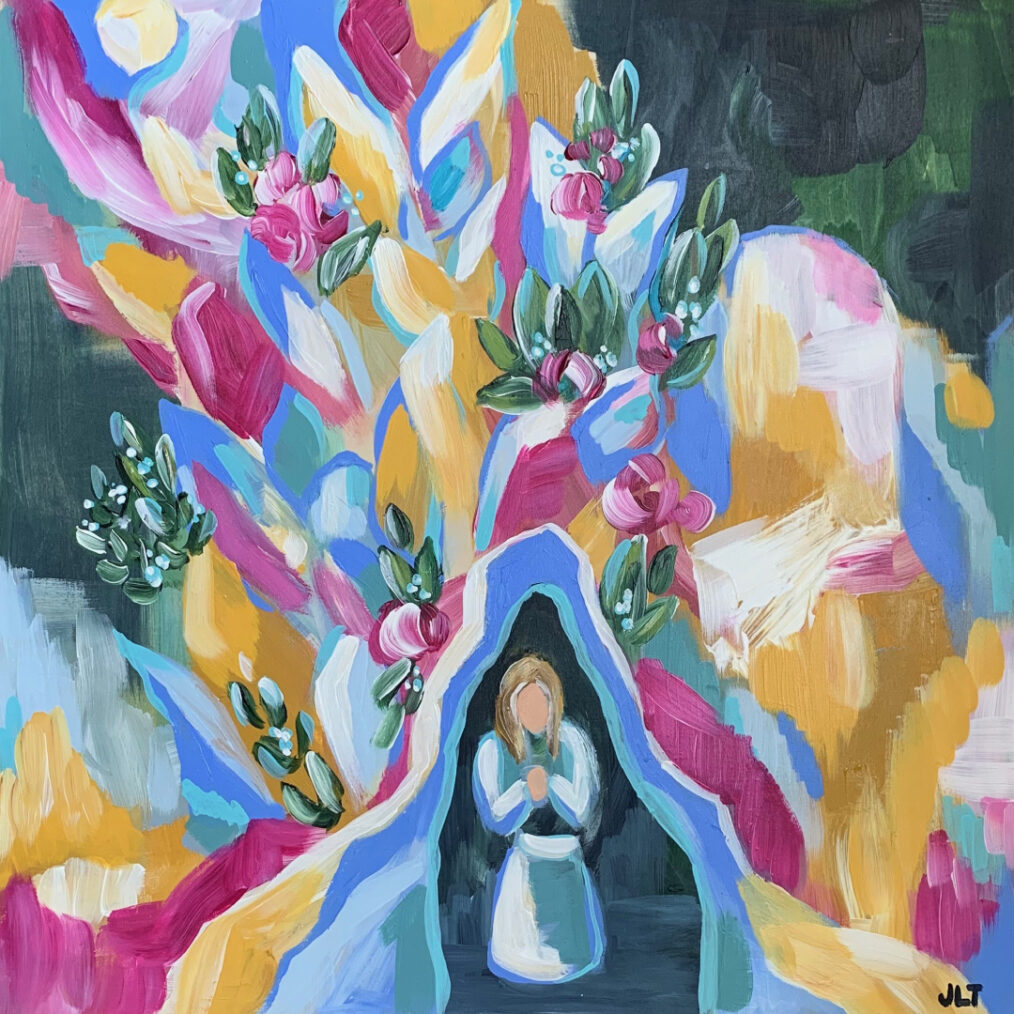 Psalm 91—Artwork
Learn more about Christ in the Psalms artwork and download artwork guides here.
Person: Jennie Pitts Tucker
Originally from Austin, Texas, Jennie graduated with a BFA from Baylor University in 2012. She started her own art business in 2014, "Jennie Lou Art," and now works as a full-time artist in Denver. She specializes in live wedding/event painting and custom pieces. Learn more at jennielouart.com or on Instagram at @jennielouart.
Piece: Acrylic Painting
He who dwells in the shelter of the Most High
will abide in the shadow of the Almighty. (v.1)
Last year, I went through a long season of depression and anxiety. In the midst of the ever-present darkness in my mind, I often felt alone and afraid. I came across Psalm 91 in my desperation, and found the words comforting and soothing to my fears. Although it took many months (and doctors) to help me come out of depression, I always held on to a sliver of faith. I had hope that God would restore my joy and help me out of this miserable mindset. All I had to do was dwell in the shelter of my Savior, and trust I was safe in His shadow. Today, the Lord has brought me from darkness into the light again, He has restored my joy. Looking back, I can see how the Lord was with me, even when I felt so alone in the darkness. Despite what I saw and felt, He was working out my redemption and salvation, even in the dark, making me more like Himself.
Because you have made the Lord your dwelling place—
the Most High, who is my refuge—
no evil shall be allowed to befall you,
no plague come near your tent.
For he will command his angels concerning you
to guard you in all your ways. (v.9–11)
This painting is an abstract illustration of the very real conflict that arises within us when our emotions tell us one thing and the Truth of God's Word assures us of another. The dark parts of the painting represent how we can so often feel like we are alone in the darkness and sin consumes us as we wander in the wilderness—we feel trapped and desperate for a way out. The bright colors rising beyond the cave represent the reality that our Father is working out salvation in the depth of our darkness. Although the figure is physically in a dark space alone, praying for God's help, there is something happening just beyond what she can see—Eden is arising out of the darkness. Life rises from the darkness, and Jesus rose to bring us life. This painting is a picture of our Savior, Jesus, and how his death assures us of life and purpose, even when we cannot see.
Because he holds fast to me in love, I will deliver him;
I will protect him, because he knows my name.
When he calls to me, I will answer him;
I will be with him in trouble;
I will rescue him and honor him.
With long life I will satisfy him
and show him my salvation. (v.14–16)