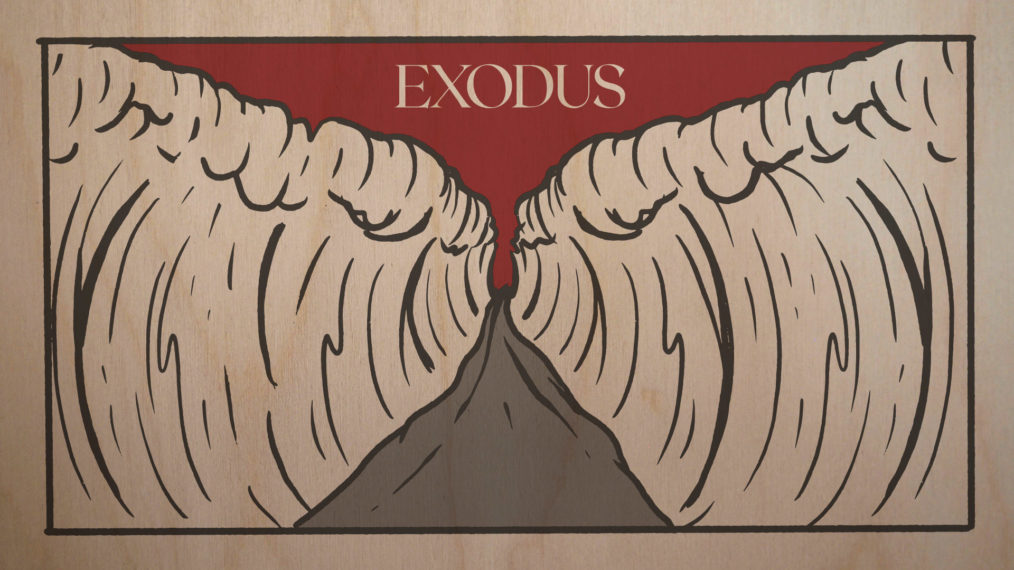 Exodus Artwork
The artwork for our
Exodus
series was illustrated by hand by Christian Robinson of Oklahoma City. If that name sounds familiar, or if the style of the artwork looks familiar, it's because Christian was our artist for
Genesis
as well. As such, the artwork for
Exodus
serves as fitting follow-up to
Genesis
. The book of Exodus, in short, is about God's mission to redeem a people for His kingdom in this world. Christian's artwork, in three pieces, illustrates the narrative of the book:
Part One
depicts Egypt and the way out of it. Egypt's God-rejecting kingdom is symbolized by their man-made glory-mountains (the pyramids) and false gods (represented by the hawk, symbolic for Ra). The stalks of straw speak to Israel's oppression and the cruelty of their overlords (ch. 5), while the path and the blood over the doorway describe the ultimate trajectory of the story as seen in the Passover and the people's flight out of Egypt.
Part Three
depicts Mount Sinai and Moses. Images on this piece show a direct contrast to the images on the Part One panel—instead of man-made mountains and false gods, Mount Sinai (an actual God-made mountain) looms in unapproachable glory and gloom and fire and smoke and the presence of the only true God. Moses in the foreground represents both God's leadership and His giving of the Law, His means for His redeemed children to be holy.
Part Two
, the central piece, shows the path through the Red Sea: a sort of climax to the story, God's final crushing of Pharaoh, and the gateway between the first and second half of the narrative.
As in Genesis, the three pieces are printed on large birch wood panels. Parts one and three hang on the sides of the stage, while part two hangs in the gallery and is shown on-screen in the sanctuary.