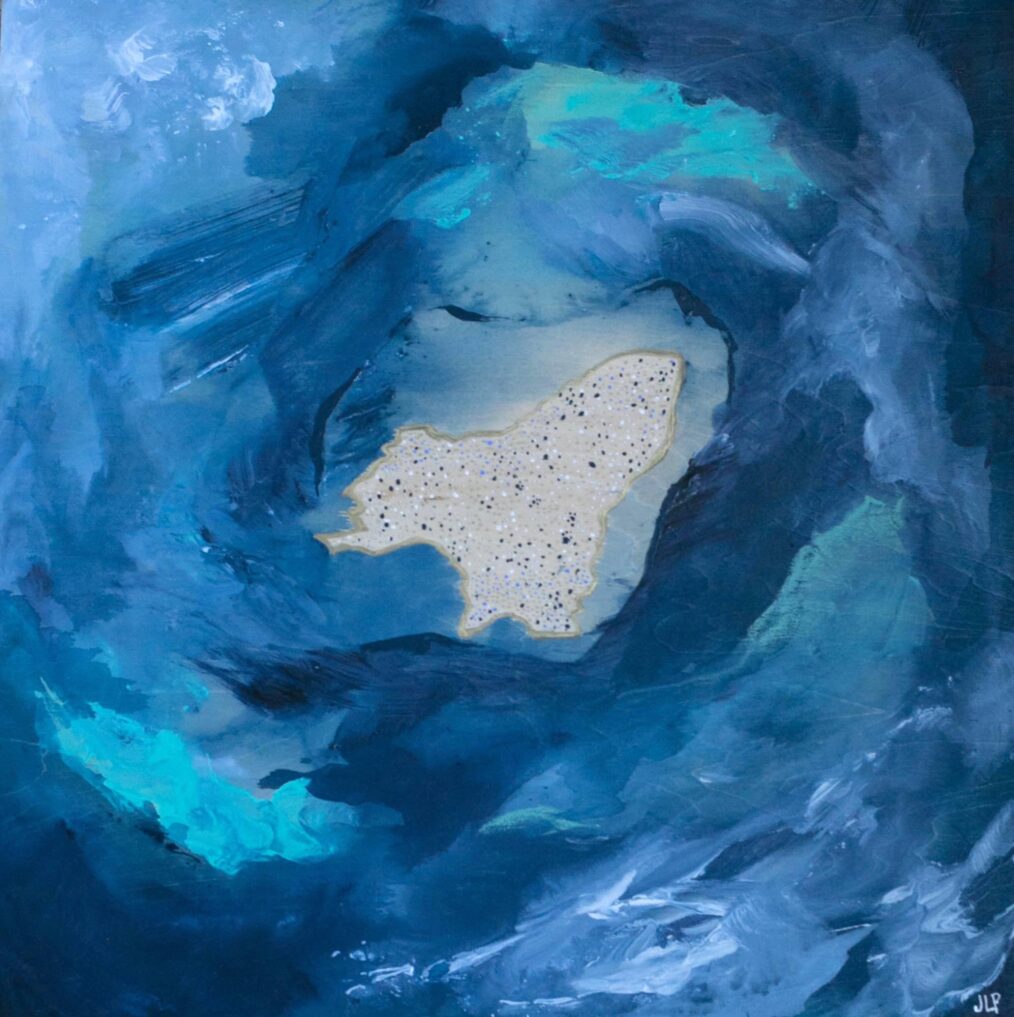 Psalm 66—Artwork
Learn more about Christ in the Psalms artwork and download artwork guides here.
Person: Jennie Pitts
Jennie is originally from Austin, Texas and graduated with a BFA from Baylor University in 2011. She started her own business in 2014—"Jennie Lou Art"—and now works as a full-time artist in Denver. She specializes in "live wedding/event painting", and custom pieces. Her studio is in the RiNo Arts District at the Globeville Riverfront Arts Center (G.R.A.Ce.). Find out more information on her website: jennielouart.com.
Piece
Acrylic
Process
Come and see what God has done:
he is awesome in his deeds toward the children of man.
He turned the sea into dry land;
they passed through the river on foot. There did we rejoice in him,
who rules by his might forever,
whose eyes keep watch on the nations—
let not the rebellious exalt themselves.
(Psalm 66:5-7 ESV)
In prayer, I kept coming back to "He turned sea into dry land, they passed throughthe river on foot", and then, "whose eyes keep watch on the nations"—as I painted, I focused on God's perspective from the Heavens, as he keeps a close watch on His people. My hope is for this piece to be a visual reminder of how God brought us out of Egypt, and even still, continues to bring us out of our own slavery. I can often feel small and overwhelmed by circumstances and sin, only to remember the hope I have in Christ to help me in my weaknesses.
Psalm 66 reminds us of God's severe mercy in choosing to save His people from destruction. Meditating on his continual faithfulness towards a faithless people changes hearts, and humbles the rebellion in all of us—"let not the rebellious exalt themselves." This piece illustrates that despite how small we may feel in God's presence, he hears our voices and listens to our prayers—"But truly God has listened; he has attended to the voice of my prayer" (v.19).
The painting is abstract in style, meant to loosely depict the ocean and a small sanctuary of dry land. The gold-outlined "dry land" with tiny dots of various colors represents Israel and the diversity of God's people. The ocean surrounding it is made up of rich and powerful deep blues/turquoise/white brushstrokes and water "washes". The rich juxtaposition of the tumultuous ocean and the quiet land are meant to point to the ever-present power and covenantal love of God towards His people.