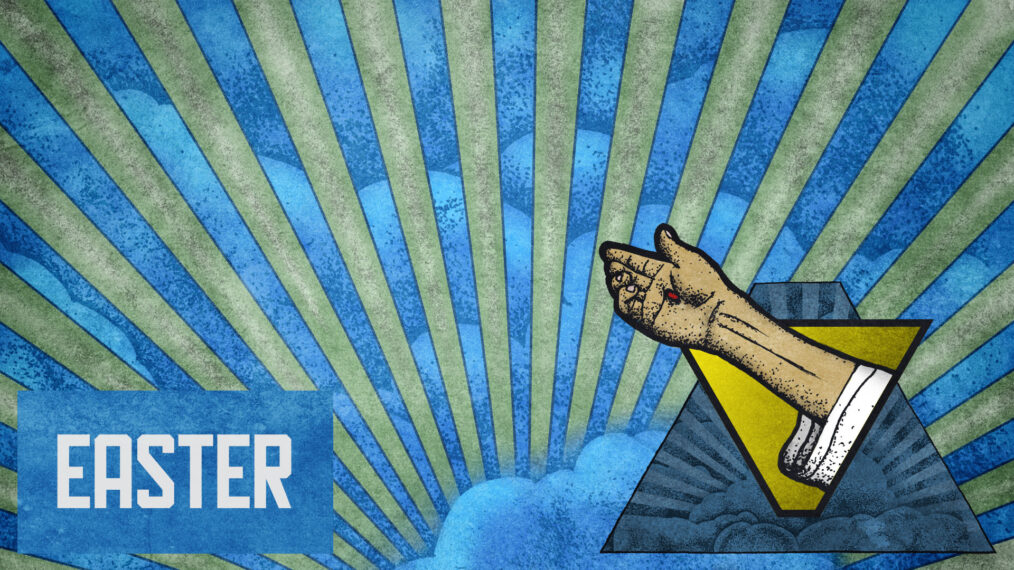 Holy Week 2017 Artwork
Our artwork for Holy Week (Palm Sunday, Good Friday, and Easter Sunday) were done by Bruce Butler. Bruce is usually seen at Park Church either co-leading his Gospel Community or playing electric guitar as we worship through singing. However, by trade he's a graphic designer and he agreed to work with us to illustrate these three critical days in our Christian Calendar year. Read the following, written by Bruce, to learn more about the artist and his art.
Who I am
I am a graphic designer and musician from the East Coast. In 2012, I moved to Denver from Buffalo, New York to be closer to family and began designing for WorldVenture, a missions organization in Littleton, CO. I'm currently designing for Olsson Associates, a civil engineering consulting firm in Golden. I co-lead a Gospel Community near Sloans Lake and, in my free time, I enjoy playing music, cooking with friends, and spending time with my nieces and nephew. You can see more of my work by following me on Instagram at
@madebybruce
or visit
madebybruce.com
.
Piece
Biblically, the word "hand" represents an ownership, power, or control yielded by its owner. In each of the pieces, I used this "hand" imagery to illustrate humanity's role in Holy Week, as well as the underlying tone of each day. The trapezoid is meant to represent a triangle with one side missing, highlighting one of the most overwhelming aspects of Easter: that Jesus not only stepped out of the infinite to become man, but that on the cross He chose to break eternal communion with the Trinity to take on the wrath of God that we deserved. For Palm Sunday, Jesus was ushered in to shouts of "Hosanna! Blessed is the one who comes in the name of the Lord!" (Mark 11:9) with the waving of palm branches. But this celebration was the beginning of a storm brewing. By the end of this week, these same people were calling for His blood. The hand waving the branch represents the world—and even the Church—often worshipping who
we
want God to be, and not whom
He
has revealed Himself to be. For Good Friday, we are reminded that our redemption came at a great cost. The storm that had started earlier that week erupted on Friday. After having been seized, beaten, and given a rigged trial the previous night, Jesus willingly continued his walk to the cross. Without getting into the gory details, flogging was a barbaric act that most victims didn't survive. Though it was not the hands of the religious leaders holding the whips, when the crowd chose to release Barabbas and crucify Christ, their ownership in Christ's death was stamped over the whole event. And lastly and most importantly, with Easter we celebrate that He's alive; that despite our misplaced worship and rebellion, He used
His
ownership, power, and control to run after us and pay the debt we owe. The storm has been broken up by the light. In seeing Jesus' open, nail-scarred hand we are reminded that we play no part in earning our place before God, but it is offered as a gift.
Click on an image below to enlarge.
Process
When asked to create this piece, it was a bit daunting knowing this is the event that is the culmination of our beliefs as well as something millions try to artistically reinvent yearly. The idea of it being based on hands and ownership came before choosing which style I would attempt. Because of the "grittiness" of Easter week, I decided to lean more towards a textured, illustrated style. Though I usually favor more digital art, I was inspired by artists like Dave Quiggle and Sam Larson to broaden my technique and include vivid colors, textures, outlined strokes, and hand drawn techniques like stippling. I started in Adobe Illustrator, making thin templates for the branch, hands, and whip, and printed them. I then added the detail in pen and also did an entire page of just clouds and lightning. I imported these into Photoshop by taking a picture with my phone and erasing the background white layer.
The rest was done in photoshop using several textures.
Click on an image below to enlarge.