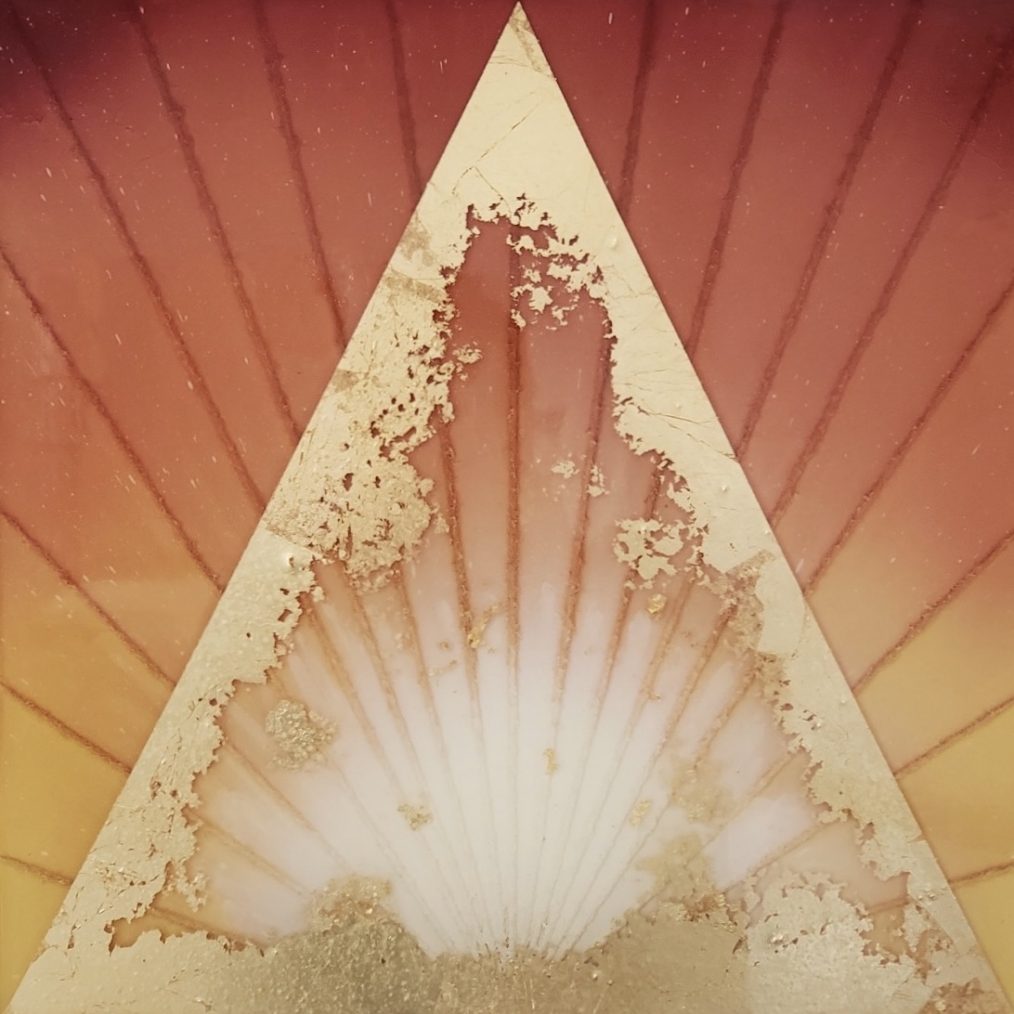 Psalm 111—Artwork
Learn more about Christ in the Psalms weekly artwork and see previous pieces here.
Person: Deannah Baesel
I feel like art chose me when I was a child and it's never let go! Art has given me a space to be creative, work through big feelings, celebrate others, and enjoy different characteristics of God. It's incredibly rewarding to work on a project, devoting time/thought/energy to it, then see it manifest. For me, the process of creating can be just as enjoyable as the finished piece! I hold a Bachelor of Science in Art with an emphasis in Design and Composition from Biola University. I've taught art in private and group lessons—from 1st graders through adult wine and paint nights. Creating is a place I feel safe and comfortable and I want to help others experience those same feelings.
Piece: Mixed Media
When reading Psalm 111, I kept thinking about the glory, awesomeness, and consistency of God. This passage is full of so many of His characteristics – greatness, glory, majesty, righteousness, graciousness, compassion, remembrance, promise, power, faithfulness, justice, trustworthiness, uprightness, provision. When I think about these words, I can't help but pause in awe of who God is and the fact that He loves me so dearly. In this piece, I wanted to capture that feeling, but how to you communicate something that you can't see? I explored this tension using symbolism in the composition and materials, ultimately creating a piece that aims to guide the viewer to seeing the radiance of God, grounded in and overlaid by the truth of His unending glory.
This mixed media piece is created using yarn, hot glue, spray paint, resin, and gold leaf. I've never worked with resin before, but the learning process was a lot of fun! The lines represent the radiance of God and are created using a worsted weight yarn. I measured the various points around the panel and hot glued them in place. I decided on a warm color palette because these characteristics of God make me feel happy and I sense happiness in bright, warm tones. The white strokes near bottom where the yarn comes together are created by manipulating the wet spray paint with my hands – a little touch of me laid into the piece. I coated the panel in 3 layers of resin, with each layer curing for 24 hours. As an artist, waiting can be one of the hardest things to do! In our daily lives, waiting can create a place where we listen in order to learn and grow in our faith. While waiting during the creation of this piece, I found myself returning to the passage and reflecting on all of the characteristics of God over and over again. Once the yarn was covered in resin, I laid out the triangle (a symbol of the Holy Trinity) and used gold leaf adhesive to create a crisp edge and organic edge. The crisp edge symbolizes the truth of God and how it is unwavering; God is real and He loves us. The organic edge represents the creativity of God and the space we have to journey in our faith while still being certain of His stability. Gold leaf reminds me of royalty, which felt like an appropriate medium to express the glory of God woven throughout this Psalm. Another 2 coats of resin encapsulate the golf leaf with the yarn which makes the piece layered, but still one cohesive work. The resin's slight reflective surface also allows the viewer to see themselves in the piece, which is a very important part of the work. When we know and believe in God, we enter into relationship with Him. By seeing your reflection in the center of the triangle, you see how you are surrounded by the 3 persons of the Trinity with God's love radiating out from your center. That's the feeling of awe that I wanted each viewer to experience.