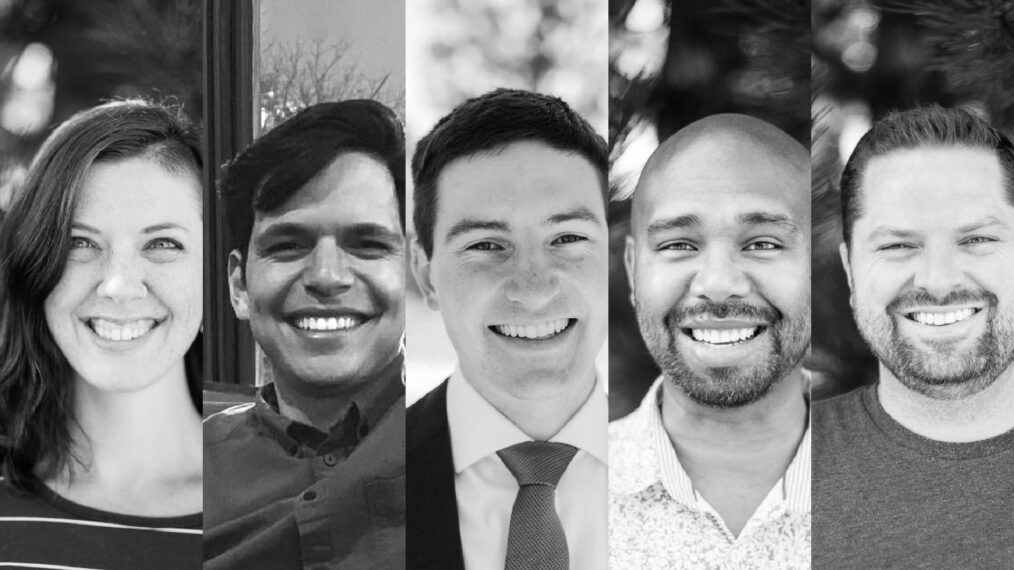 New Staff at Park Church
We're excited to introduce five new staff members to you this week. We've asked them each to share a little about themselves:
Christopher Frierson: Director of Strategic Development
I'm a husband-in-training to Jerusalem and a gushing father to Selah, both an Air Force brat and veteran, and discipleship is my jam. On the Enneagram, I'm a 7 (Enthusiast) with an 8 wing (Challenger). I love all things related to culture (especially food, travel and language), was a Human Resources Business Partner in my last role, an alumnus of Colorado Christian University, a performing arts junky, and I serve on the board for the Issachar Center for Urban Leadership. Fun Fact: I've never experienced a brain freeze!
Ryan Gannett: Director of Operations
I love journeying through life with my wife and best friend, Erica. We live in the Athmar Park neighborhood and spend our time exploring the mountains and hanging out with friends around Denver. I grew up in a suburb of San Francisco and graduated from Notre Dame. I'm thankful we don't have to suffer through midwest winters living in Denver. In my previous role, I worked to help patients with chronic illness live healthier lives. I have a passion for building and creating both relationships and organizations that help people grow. My hidden talent is that I'm decent at making pottery and always looking for an excuse to practice and get better.
Margie Keith: Office Manager
My name is Margie, and I'm the new office manager and Community and Formation admin! I have attended Park since I moved to Denver in June of 2018 and I'm delighted to have a place on staff. A couple of fun facts about me: I was born and raised in Vermont (although I haven't lived there in a long time), I love to travel internationally, and I can almost always be found with a cup of coffee close at hand. Looking forward to ministering alongside you all!
Josh de Leon: Connection Coordinator
Hey, my name is Josh and I was hired as the Connection Coordinator at Park and I am pumped to engage new congregants into the life of the Church! When I'm not at work, I'm usually found with a nice book, a cup of coffee and an itch to get outside. I look forward to what is to come!
Zach Foster: Park Teens Coordinator
Hey all! My name is Zach Foster and I'm excited to be the new Park Teens Coordinator! I am a Denver native who came to know Jesus while on a mission trip to Juarez, Mexico my freshman year of high school. Ever since, I have been passionate about revealing the beauty of Christ to teenagers just as my youth pastors did for me. I believe that winning our youth to Christ is crucially strategic for growing the Church and making a greater impact for the Kingdom in our city and our world. I am currently pursuing my Masters of Divinity with a concentration in Leadership at Denver Seminary. Important things you should know about me: 1) I love the Denver Broncos, Chipotle, Parks & Rec, and Nacho Libre a little too much. 2) My spirit animal is a combination of Jack Black and Ron Swanson. 3) As a part-time handyman, I can fix anything, except a broken heart. I look forward to getting to know you all in in the coming months and years!