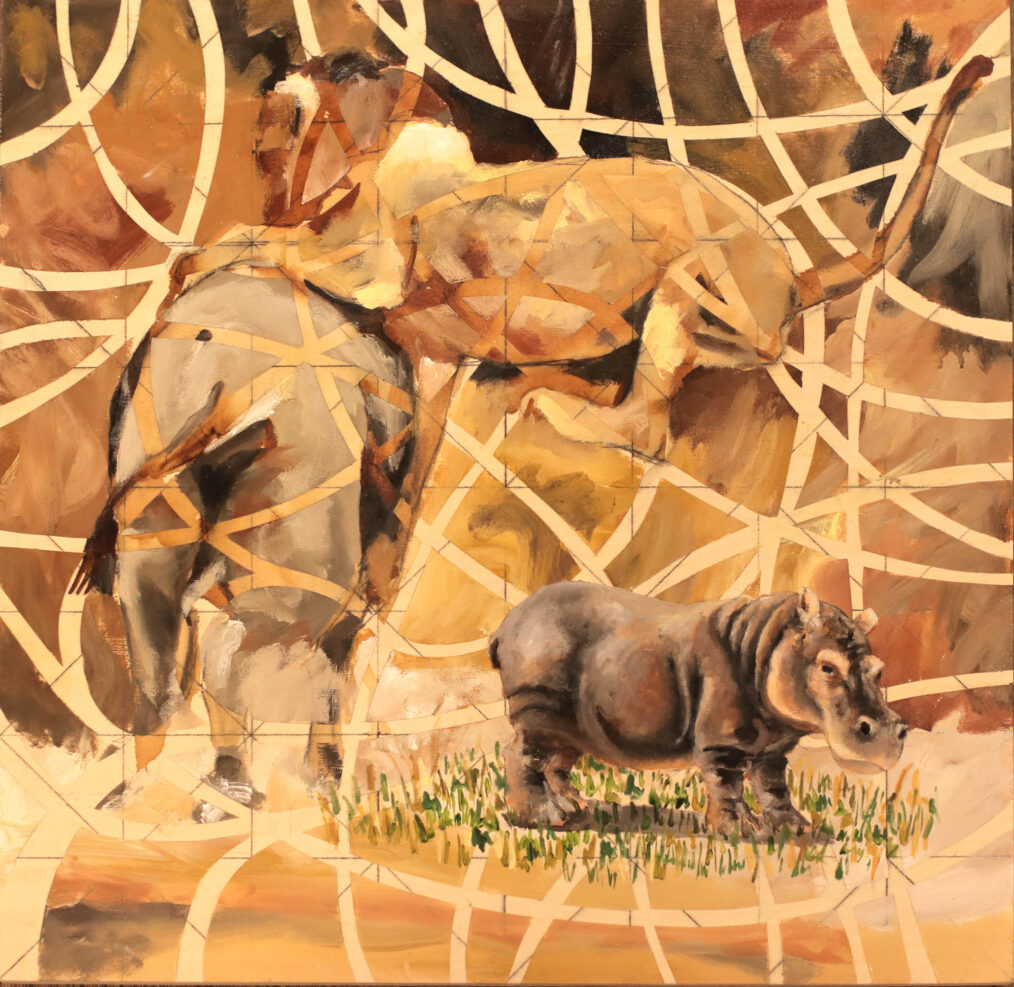 Psalm 86—Artwork
Learn more about Christ in the Psalms artwork and download artwork guides here.
Person: Benjamin Rogers
Benjamin Rogers is a full-time instructor of art at Red Rocks Community College. He has an MFA in painting from Arizona State University and his work has been exhibited across the country.
Piece
Acrylic and oil painting.
PROCESS
This painting exhibits the goodness of God in his protection from the surrounding chaos.  In this piece I have used a hippopotamus as a symbol for David, painting him in a manner that demonstrates how he is outside of the danger of the attacking lion. In this way, it shows that God is faithful and merciful to David. The scene in the background is difficult to discern at first, but when viewed at a distance, it becomes more obvious that it is a lion attacking a water buffalo in an African savanna. It is further obscured by the arcing lines throughout the painting which create a more chaotic scene and make the imagery more confusing. I used this device to communicate the natural world of the flesh, which is juxtaposed with the clearer and calmer hippo which peacefully grazes away from danger.
To create this piece I made a quick monochromatic acrylic painting of the lion attacking the buffalo. Next, I covered the entire surface of the painting with masking tape and drew out the designs of the arcing lines.  Once I had the shapes drawn out, I cut out the shapes with a razor blade and removed the negative shapes, leaving a masking tape stencil on the surface. Then I painted the lion attack in a very gestural manner so that it would only be visible from a distance. Finally, I painted the hippo on top as the final layer in oil paint.