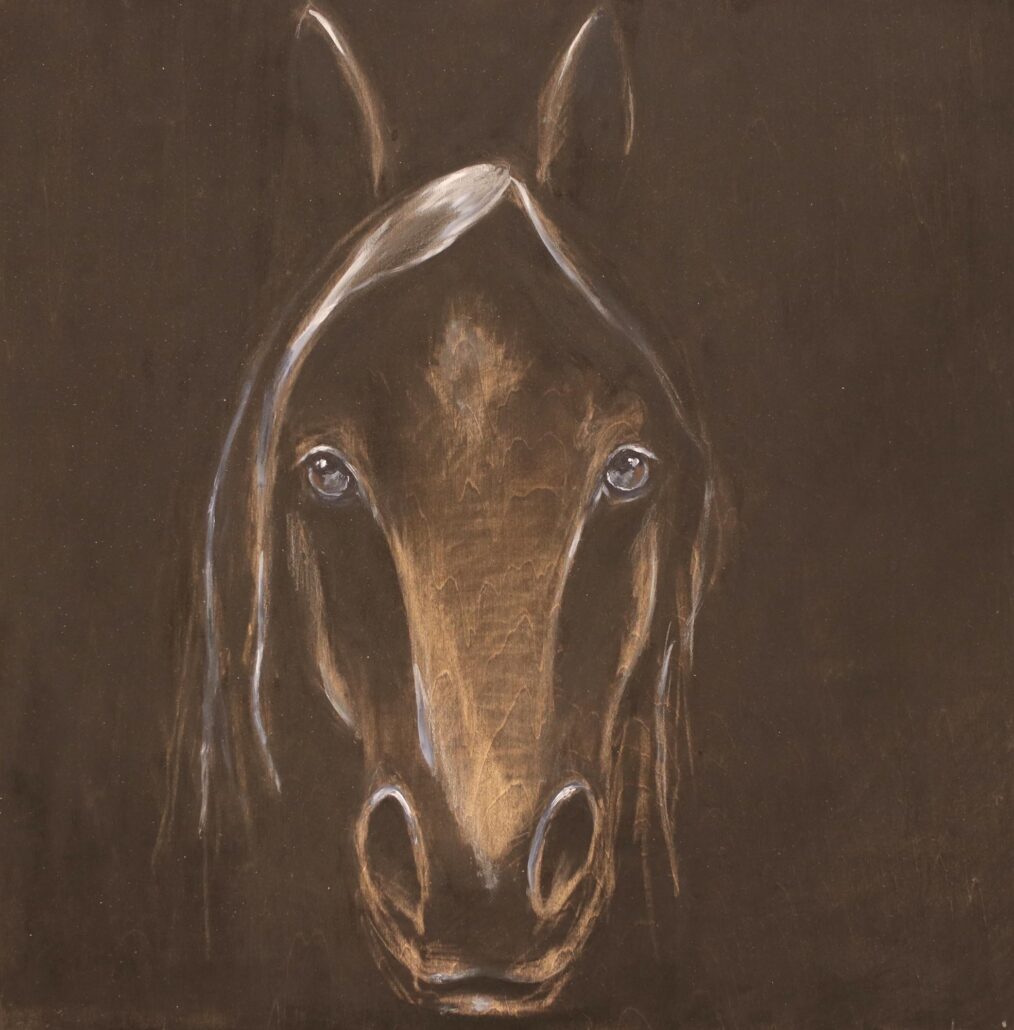 Psalm 83—Artwork
Learn more about Christ in the Psalms artwork and download artwork guides here.
Person: Jennie Pitts
Originally from Austin, Texas, Jennie graduated with a Bachelor of Fine Arts degree from Baylor University in 2012. She started her own art business in 2014—"Jennie Lou Art"—and now works as a full-time artist in Denver. She specializes in "live wedding/event painting" and custom pieces. Her studio is in the RiNo Arts District at the Globeville Riverfront Arts Center (G.R.A.Ce.). Learn more about Jennie's work at jennielouart.com.
Piece
Charcoal and Acrylic.
PROCESS
O God, do not keep silence; do not hold your peace or be still, O God! (v.1)
Growing up, I found solitude and peace with my horses. They are majestic and immensely powerful creatures, yet their quiet strength and soft gentleness instills such comfort. Meditating on Psalm 83, I kept seeing a vision of this gentle horse in the darkness, with his kind eyes upon me. While darkness can feel all-consuming and frightening, the horse's eyes remain steady and unassuming. It is as though he sees you in the darkness and even though he is silent, he is with you. How often do we feel the same way about our Heavenly Father, majestic and immensely powerful, but who sees us, and comforts us, even in the darkness and the silence?
How our hearts long for God's presence, especially when we feel like He has withdrawn. When infertility or infidelity seeks to steal our joy, when our loved ones are called home without our understanding, when sickness slowly seeps life from our bones, when life just feels draining and overwhelming… how often have we each come to this place where we cry out and long for God to speak to us? "Oh Lord, give me something to hold on to, PLEASE do not be silent!!"