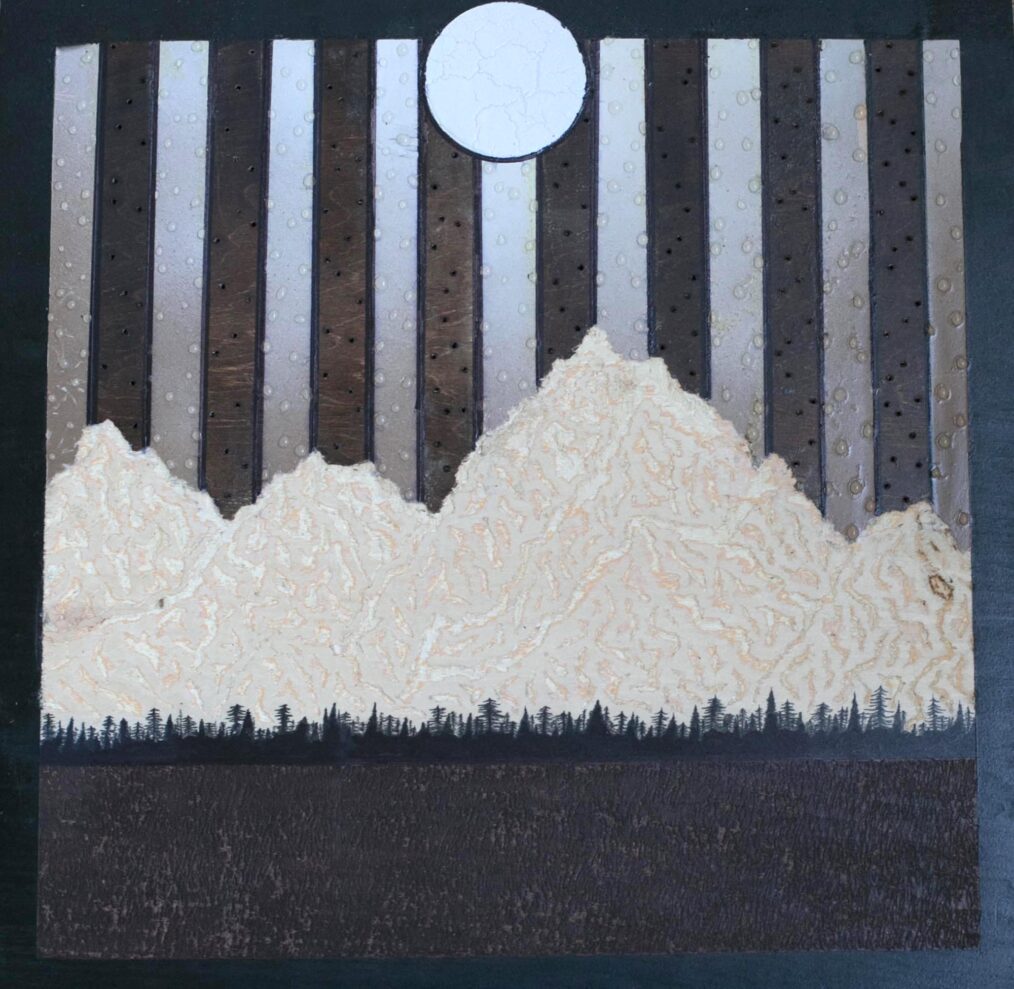 Psalm 72—Artwork
Learn more about Christ in the Psalms artwork and download artwork guides here.
Person: Bruce Butler
I am a graphic designer and musician from the East Coast. In 2012, I moved to Denver from Buffalo, New York to be closer to family and began designing for WorldVenture, a missions organization in Littleton. I'm currently designing for Olsson Associates, a civil engineering consulting rm in Golden. I co-lead a Gospel Community in the Sloans Lake neighborhood and, in my free time, I enjoy playing music, cooking with friends, and spending time with my nieces and nephew. You can see more of my work on Instagram at @madebybruce or by visiting madebybruce.com.
Peice
Mixed Medium
PROCESS
Psalm 72 is a beautiful psalm of God's triumph. Imagery like "Let the mountains bear prosperity for the people, and the hills, in righteousness!" and "May they fear you while the sun endures, and as long as the moon, throughout all generations! May he be like rain that falls on the mown grass, like showers that water the earth! In his days may the righteous flourish, and peace abound, till the moon be no more," paint a vivid picture of God prospering His people. However, those who are in Christ yet are not experiencing God's earthly providence are not excluded from the blessing: "For he delivers the needy when he calls, the poor and him who has no helper. He has pity on the weak and the needy, and saves the lives of the needy. From oppression and violence he redeems their life, and precious is their blood in his sight."
In this piece, I added the sun above all, breaking frame, depicting how, through night and day (times of prosperity and adversity), His light shines over all. The rain is a mirror of His showers that water the earth. Though I usually do digital art, I enjoy woodworking and wanted to attempt some new techniques. I started by using a propane torch to bring out the grain. Next, I masked off those areas and applied a stain. Unfortunately the stain bled, so I masked o the stained part and applied spray-paint to the alternating strips. I then masked o the edge and painted it black. Because I wanted a rough cut, I used a screwdriver to add definition to the mountains. I added the trees afterward with a Sharpie and chipped away for the grass effect with a razor blade. To add contrast to the grass, I applied a quick stain. For the rain, I used a hot glue gun and a hand drill for a raised and recessed perspective. Lastly, I spray-painted the sun and touched-up some lines with a Sharpie. It definitely wasn't the vision I started with, but that's how most physical artwork goes.