Covenant Member Update: July 2023
Covenant Member Update: July 2023
HAPPY 15TH BIRTHDAY, PARK CHURCH!
In 2008 a couple dozen people gathered in a Highlands basement for a weekly Bible study with the hopes of joining God in a movement toward Gospel renewal in Denver. The name "Park Church" emerged from this desire to see the good news of Jesus carried to every corner of our lives and this city. There's an old banner hanging in the counseling wing from these early days (see image). Apart from perhaps the font and grammar choices, it in many ways still captures what we're after:
Parks are generally beautiful. Parks are social and cultural hubs in neighborhoods, and sometimes for an entire city. All kinds of people are welcome. People who wouldn't normally see one another. That's precisely the kind of church Park Church aspires to be. A community of people reclaimed in Jesus Christ through the Gospel seeking the good of the city. A park can be a place of renewal and a place of celebration. We believe that a church can be the same. Whose existence demonstrates the life that the Gospel creates. The news of the Gospel has to be embodied and lived in the midst of neighborhoods, offices, and, yes, parks.
Here we are a decade-and-a-half later (Thursday, June 22 was our 15th birthday!) and the overarching vision remains consistent: proclaim Christ crucified and risen, live as the redeemed family of God under the good reign of King Jesus, and be led by his abiding Spirit, all with the goal of seeing more people in more places worship Jesus. In short, we exist to make disciples of Jesus for the glory of God and the joy of all people.
So raise a glass to 15 years! God has patiently proven His steadfast love and sustaining kindness in and through our church family. On behalf of our entire elder and staff teams, we are grateful to serve and lead alongside you all as we seek to make much of Jesus together. You make it a joy. Let's seek Him together for another year of increasing dependence upon the almighty God as he demonstrates His worth and power to save yet again through our church family.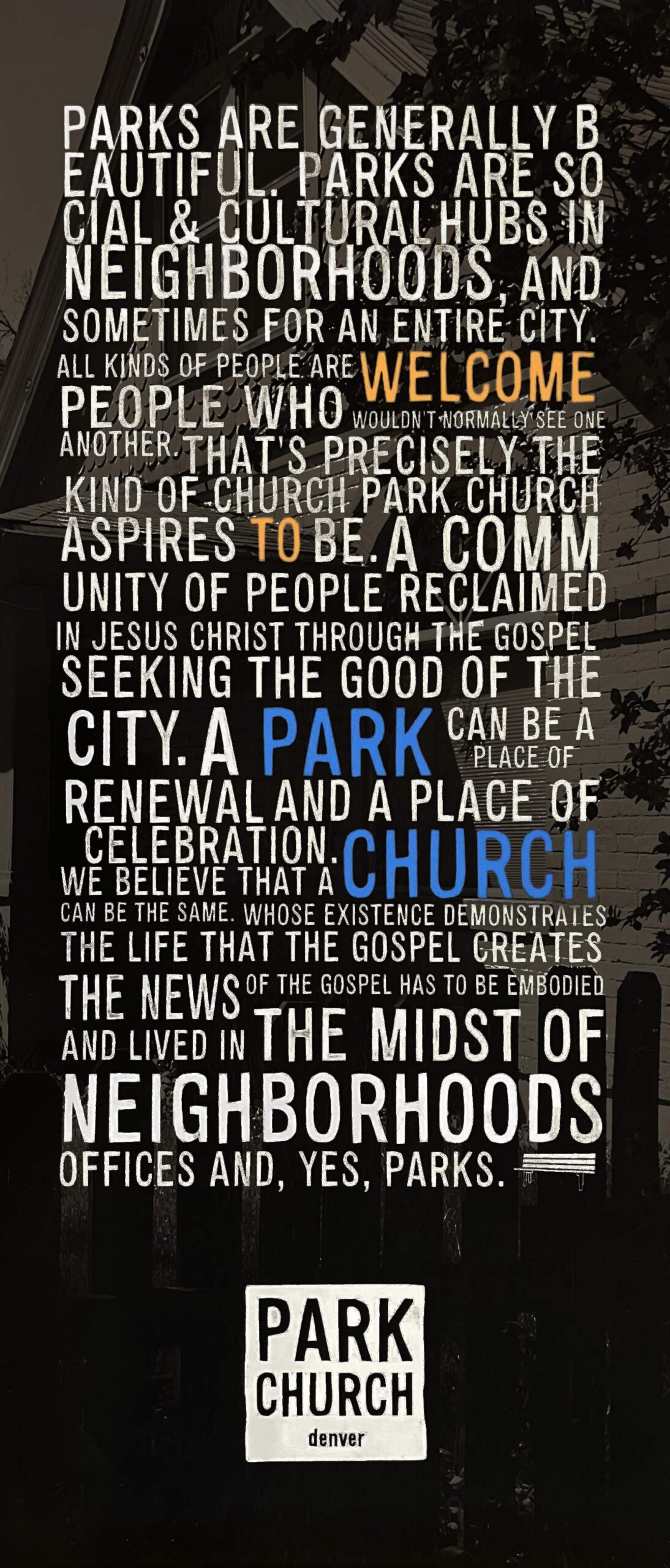 MINISTRY SPOTLIGHT: ALPHA
This past spring, a team of lay (non-staff) leaders in our church family hosted and facilitated the Alpha course. Over the span of three months, they nurtured an unassuming relational space for 18 people to interact with the fundamental questions of the Christian faith. A couple of these these people professed faith in Jesus for the first time. In the words of some of the participants, each of them experienced "a space for deep conversations about the meaningful and sometimes difficult questions in life" in a "no-pressure atmosphere" that was "eye-opening and nonjudgmental." Their times together "allowed [them] to meet so many amazing people" and "create community and have meaningful conversations in a safe space."
This is the first time we've fully initiated the Alpha course at Park Church, and while we anticipate its impact to grow, we're truly grateful for how God has already worked through it in people's lives. Our aim is to run this course again this next ministry year. But we need a team to implement and sustain it. Are you willing to learn more? There are a variety of ways to get involved such as calling on your Gospel Community to make a meal one night, hosting the meetings in your home, facilitating some of the conversations, and committing to pray for the people part of Alpha.
To explore serving through the church in this way, please email christian@parkchurch.org.
COVENANT RENEWAL
Have you done it yet? We're still waiting on some of you! Our aim in covenant renewal is to remind one another of what it means to be part of this local church. It also helps us to orient our Shepherding Regions in ways that allow us to more effectively pastor and care for the people entrusted to our care. Covenant Renewal will become an annual rhythm that we initiate each summer. As always, if God is calls you elsewhere, please let us know so we can process with you, pray for you, and send you out well.
If you haven't completed the 10-minute renewal process yet, you can do it now.
PRAYER SERIES | AUGUST 13-SEPTEMBER 3
As summer winds down and the fall season approaches, we typically take a handful of weeks to teach on and lead into a particular area of Christian practice, especially as it relates to being with Jesus (we'll do the same in January, emphasizing a practice related to following His way of life). This August and early September, we will take four weeks to preach on the beautiful—though often under-addressed—practice of communing with God in prayer. The four weeks will be structured around Pausing, Reflecting, Asking, and Yielding… winsomely following the acronym P.R.A.Y. (because pastors supposedly get away with stuff like this).
Here's our broader vision for the series:
At Park Church, we say that a disciple is first and foremost someone who has been reconciled to God by grace through faith in Christ. But even reconciled disciples often struggle to experience God relationally in their daily lives. Among other things, this relational disconnect contributes to the rampant experiences of anxiety and depression that so many in our community are facing. In our hyper-distractible world, we need help to engage in a life marked by daily communion with God. And we need practical tools to pursue a praying life. We can be faithful to take meaningful steps to pursue God in prayer; He wants to do more than we ask or think (Ephesians 3:20).
What might God do in your own life as you learn to commune with Him and relate to Him with more intimacy and regularity–as you learn to thank Him, confess sin, ask for things, listen, surrender, and wait? What might he want to do in and through a Gospel Community that communes with Him, asking, seeking, knocking? How might he work in the lives of kids and students and on campuses that pray big prayers for God to move in power? What might He want to say to our church, heal in our church, do through our church? What might God do in and through a church family that puts communion with Him at the very center of who we are? We can anticipate he will do more than we could imagine.
Our upcoming Men's Retreat (August 11–13) and Women's Retreat (September 29–October 1) are also centered on different themes of prayer. We'll also provide resources and guides along the way through Sundays and at Gospel Communities. For now, you can be praying and preparing your hearts as we enter into this series.
(After our prayer series, we will work through the Old Testament book of Ecclesiastes. That will take us right up to Advent. We'll share more as we get closer.)
CHURCH MEMBER BBQ
Each year around the end of the summer we gather to celebrate the remarkable family God has given each of us. It's almost that time again! Join us for our Covenant Member BBQ on Sunday, August 27 from 4–7pm. We'll get together at Highland Park (three blocks south of the Park Church building) for food, time together, games for kids, and experiencing the sweet gift of church as family. Please RSVP and select which side you'd like to bring. We'll provide the main course and plenty of drinks. We're excited to gather with you all!
With love and gratitude,
Neil Long
Executive Pastor
---